CLIENTS:
Disney India
Nick India
Animated Storyboards UK
Toonz Media Group
Carttoon Network India
Imira Spain
Caribara (France)
Home Plate ( Canada)
Hive Films (UK)
Green Apple (Singapore)
Shift Future (Suzhou, China)
Sichuan Studio (Chengdu, China)
Pinggu Digital (Harbin, China)
Golden Mushroom (China)
Animex (Suzhou, China)
Manike Music (UK)
Cartoon Network Asia (HK)
Copernicus Studios Inc (Canada)
Full Color Animation (Singapore)
668 Productions (Germany)
Trion Pictures (Italy)
SingAvenue (Singapore)
Global Digital Creations (China)
De MontFort University (UK)
Animation Services (HK)
MDA (Singapore)
Morningside Pharmacy UK)
Cambridge University (UK)
Maya Entertainment (India)
A Go Go Productions (HK)
Toon Boom Technology (Canada)
Festival Animatu (Portugal)
Ealing and London College (UK)
Leo Burnett (UK)
MTV Asia (Singapore)
Leo Burnett (Singapore)
Leo Burnett (Malaysia)
Grey Advertising (India)
Ted Bates (Singapore)
Saachi & Saachi (Singapore))
Village Productions (UK)
J W Thompson(Singapore)
HSBC Bank (Singapore)
-------------------------------
BIOGRAPHY
-------------------------------
ANIMATION
-------------------------------
ILLUSTRATION
-------------------------------
GRAPHIC DESIGNS
-------------------------------
PRODUCTIONS
-------------------------------
STORYBOARD
-------------------------------
NEWS AND EVENTS
-------------------------------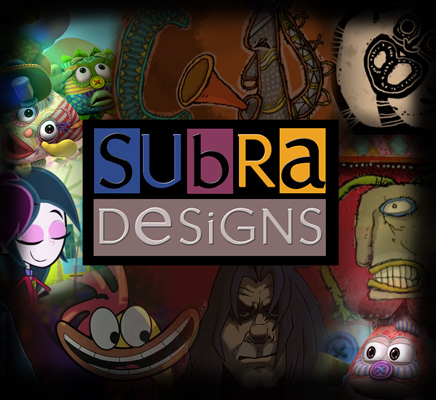 Animation Direction / Art Design
Concept Development / Storyboards
Animation and Co Production
Welcome to Subra Designs
Subra Designs is a design and consultancy company run by Mohan Subramaniam (AKA Mohan Subra). With 30 years experience in the Media industry especially in the animation business, Mohan Subramaniam has worked on various studios as an Animation Director, Illustrator, Creative Director, Producer and Trainer. Mohan Subra is also creative consultant to various projects in Canada, Europe and Asia where his main focus is on concept development, pre-production and co-productions.

Mohan has won numerous gold awards working on animated Idents and station promos for Cartoon Network Asia in Hong Kong and Gold Award for his short film ( Children Education) for UNICEF call "The Stone Crusher" in the Animation Celebrations in Los Angeles. He has been invited to be in the jury panel for Animatu Festival in Portugal and has been invited to speak in Hiroshima Festival (Japan) and Animation Fiesta (Singapore). He was the animation consultant to Cambridge University and conduced regular assessments and workshops for their clients and also for De Montfort University.
Mohan was the Creative Consultant to Toonz Media Group supervising the development and pre-production unit. Under his guidance, the team have successfully pitched 6 projects to Disney India which are currently under production.
Mohan Subramaniam is represented by ANIMATED STORYBOARD. An agent with representive in London. New York and Brazil. As their director and designer, Mohan has created Storyboards mainly onTVC for clients in Europe and the US.
Mohan Subramaniam is also a animation trainer and conducts workshops for various institutes like Cambridge University, De Montfort University (UK), Toonz Academy (India), Temasek Polytechnic (Singapore) Pinggo and Global Digital Creation (China)
---------------------------------------------------------------------------------------
Contact: Mohan Subramaniam
Mobile: +44 (0) 7491654070

Email: subrak10@gmail.com
Email: subrak@subradesigns.com
Current News:

Mohan Directs Season 2 of Lucky Fred TV series.

A second season is commisoned for the highly successful animated series call "Lucky Fred" created by Imira Entertainment in Spain. The new series will be co produced by Imira, Toonz Media Group and Telegael of Ireland.

Mohan will be directing the 52 new TV series. Working closely with American and Spanish writers, he will coordinate the various aspect of the coproductions. While Imira oversees the scripts, Toonz Media group will supervise the animation productions while telegael looks into the Pre and post production.

Photo: Mohan addressing the crowd during the summit

Festival Director for Animation Masters Summit.

In April 2016 the annual Animation Masters Summit organised by Toonz Media Group, commissioned Mohan as their Festival Director.

Work started in March with a group of festival coordinates working closely with Mohan to supervise and manage every aspect of the event which included inviting all the key speakers, designing the programme, the stage designs, accomodations, which also included, "The Flying elephant Film Competition. Call for Entries were sent out in January and final sellection were done in early April.

International Directors such as France's Jean Marie Olivier, India's Arnab Chaudari, New Zealand's Greg Harman and Don Anderson Head of YouTube Apec were among the key speakers. The 2 day summit had talks, interactive workshops and panel discussions. The film competition attracted over 500 applicants from around the world. The award ceremony presented the top 4 winners with a unique trophy. The summit was attended by Professionals, Broadcasters and students from all over India and Asia.


Photo: From right, Longbir, Ravi & Devika from Disney. Mohan and Dr Aavanessh after our successful pitch in Disney's office.


Disney commssioned 6 New animated TV series!

In 2014, Mohan was engaged by Toonz to help mentor and organise their Creative and Development Team. The task was to get the, equip to pitch a minimum of 12 concepts to Local broadcasters. Over the period of the first years, the team underwent intentive trainings on designs, pitching and also did creative workshops conducted By Mohan.

Two years later, the team pitched 12 new concepts to the local broadcastors. The team's dedication and hardwork paid off when Disney commissioned 6 of their concepts.